Tiny Lightning
01.08.2018 | Laconia Daily Sun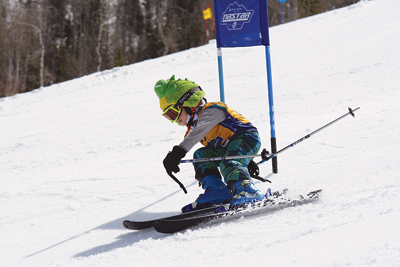 By RICK GREEN, LACONIA DAILY SUN
As soon as Xavier Corbin could walk, he was taught to ski by his grandfather, Duane Derosier, an instructor at Ragged Mountain.
Now, at 6 years old, the student has arguably become the master.
Xavier, known for his alligator helmet, is one of the fastest skiers his age in the country. They call him "Gator" and "X-man" on the slopes. He's starting to leave "pa-pa" behind.
"I'm 62 now and I have to move right along to keep up," Derosier said. "He's really fun to ski with, he's so good. He turns heads."
Xavier said he's actually now faster than his grandfather.
"I like to go fast, and I like to do jumps," he said.
Derosier said he was surprised by how quickly his grandson mastered the sport.
"By the time he was 3, he was cranking out turns," said Derosier, who was a competitive skier in high school and college. "He got an early start and has a lot of natural talent.
"We'd ski side by side and I'm a more advanced skier so I'd get up on my edges and he would follow right along."
At age 4, Xavier conquered the White Heat run, one of the steepest in the Northeast, at the Sunday River resort in Maine.
On March 23, at age 5, Xavier flew down the Alpine course at the Liberty Mutual Insurance NASTAR National Championship in Steamboat Springs, Colorado, earning a gold medal for his division.
The next day, he was invited to ski in the race of champions, which included 57 other gold medal winners from all age groups. He finished 15th.
On Nov. 17, he posted a quick 32.32 run at the Copper Mountain NASTAR Pacesetters Trials, an event that featured U.S. Ski Team alumni Casey Puckett, Marco Sullivan and Daron Rahlves. On Jan. 27, he will race in the NASTAR Regional Championships in Okemo, Vermont.
Xavier is fearless on skis, but he also skis under control and is safe, said his grandmother, Patty Derosier.
"It's a very natural thing to him," she said. "He has to work at it, of course, but it comes so natural."
He looks out for others on the slopes. Xavier spotted an adult beginner who was at the top of the mountain. The young man took the adult under his wing.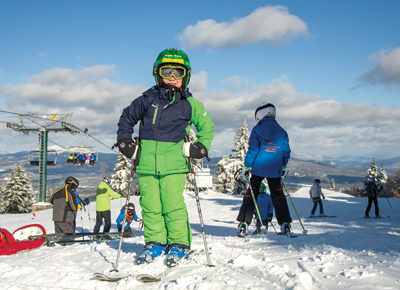 "He said, 'I have to help him,'" his grandmother said. "He said, 'You don't take somebody on the mountain who can't ski and you never leave somebody behind.'
"He took time with him and took him to the beginner area and showed him how to ski and how to turn."
Patty Derosier was trying to keep up with her grandson on skis when she fell and broke her leg. She learned first-hand about the sport's dangers, but she remains supportive of Xavier and his enthusiasm for skiing.
"You can't hold him back just because you are afraid," she said. "It's like a freedom for him."
The Derosiers live in Danbury and can see Ragged Mountain from their house. Xavier lives in Laconia, but spends a lot of time with his grandparents on weekends.
"He sees snow on the slopes and he is ready to go," Patty Derosier said.
The young man has a competitive side.
"He looked right at Casey Puckett and said, 'I'm going to beat you.'"
Xavier's mother, Skylor Miller, said she has skied over the years, but her skill level never approached that of her son.
"He loves it," she said. "He absolutely loves it. He has withdrawals through the summer and always asks when the snow is coming back so we can go skiing again."