From Italy to NASTAR
03.09.2020 | Hadley Starer

Andrea Pizzini moved from Italy to Alabama to complete his residency and learn the trade of dentistry. After living in Alabama for a few months he traveled up to North Carolina to ski at Sugar Mountain. This is where Pizzini first discovered NASTAR racing.
Pizzini grew up ski racing in Italy and raced FIS through his adolescent ski career. Pizzini was a fast racer. He won at a regional level before racing FIS where he placed fourth for U18 men in 2009. He grew up racing with his sister Ballea, and shared strong support from their parents. Pizzini moved to the United States to complete his residency in dentistry school working primarily in dentistry research. 
After discovering Sugar Mountain, he joined the Crescent Ski Council and began to compete again in ski racing in the NASTAR program.  
"I love skiing so much and NASTAR was so much fun that it was worth the seven-hour drive to train during the weekend," Pizzini said. He loves NASTAR because of the comradery and community that come along with racing. "I love to see people from different ages and different levels competing together, I like how you can compare yourself to a pro skier and NASTAR is very accessible for everyone to race."
Soon after he began racing in the states, it was very clear he still was able to dominate in his field and qualified for the NASTAR Nationals in 2019 at Squaw Valley, in California. "I was really excited that you could qualify for the nationals and compete with the U.S. Ski Team athletes like Tommy Ford and Ryan Cochran Siegle." 
Pizzini won for his age group at the 2019 Nationals. James Noah, a friend and fellow competitor of Pizzini's, grew up racing in Minnesota and now races NASTAR as well in Indianapolis.
"I met [Pizzini] at a ski area called Paoli Peaks where I am a local pacesetter," said Noah. "He just showed up and beat me by a second or so and I thought to myself, wow where did that guy come from?!" Pizzini blew everyone away with his speed that day at Paoli peaks. 
In the same weekend, Noah told him about one of the bigger races they put on at their local hill, Perfect North, and tried to entice him by telling him he could race Downhill, Super G, Giant Slalom or Slalom. Pizzini's response? It was too far from home and he needed to get back to Alabama. The next day, he showed up and won the King of The Hill Award and absolutely crushed the field. "He's a very humble guy, so easy going," explained Noah. 
Pizzini is also a very busy man as he completes his residency to become a dentist. He had hoped to be going back to Nationals this season for the 2020 Liberty Mutual Insurance NASTAR Nationals in Aspen Snowmass, Colorado. He's now looking forward to having the chance to chase after the cash purse in 2021. "It's very exciting because many athletes from the U.S. Ski Team or NCAA will be there trying to win the cash prize I hope and it will be very cool to see more people coming to the Nationals," Pizzini said.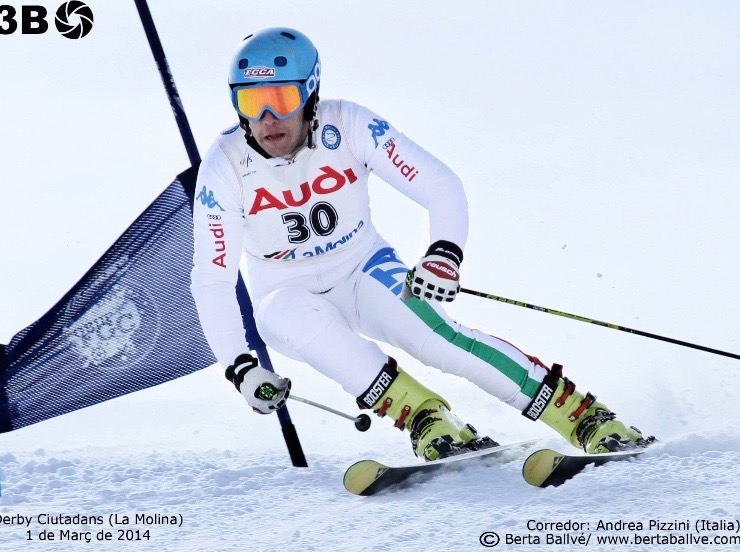 The prize money is not the only thing incentivizing more racers to come to Nationals in the coming years, but it is also easing some of the costs that come along with traveling if you're lucky enough to make it into the top four of the Race of Champions. Pizzini is excited about this prize money he states, "It is very expensive to travel and I think it could really help some people out to offer the prize money," said Pizzini. "I think in the long term it will attract more professional skiers to NASTAR."  NASTAR is growing so much, however by offering more prize money and the chance to race against US ski team athletes, it makes the races even more appealing. 
Pizzini's love for skiing and ski racing carries over to the hill. He is very supportive and is taking advantage of the opportunity to keep smashing plastic. Keep an eye out for him at the 2020 Liberty Mutual Insurance NASTAR Nationals as he chases after that Race of Champion cash purse!